We Touched 10 Million Lives!
Chetna Awards were hosted on 22nd May, 2022 at New Delhi where Chetna Heroes were felicitated for their exemplary contribution to "Spreading Goodness" in society. A 'Coffee Table Book' on Chetna Heroes' accomplishments "Chetna Heroes- Spreading Goodness" was also released in their honour.
In a glittering ceremony, Hon'ble Lt Governor of J&K Shri Manoj Sinha conferred the awards to 37 Chetna Heroes and released the Coffee Table Book honoring them in the presence of Shri KJ Alphons (MP), Smt Locket Chatterjee (MP), and Smt Usha Rai (Eminent Journalist).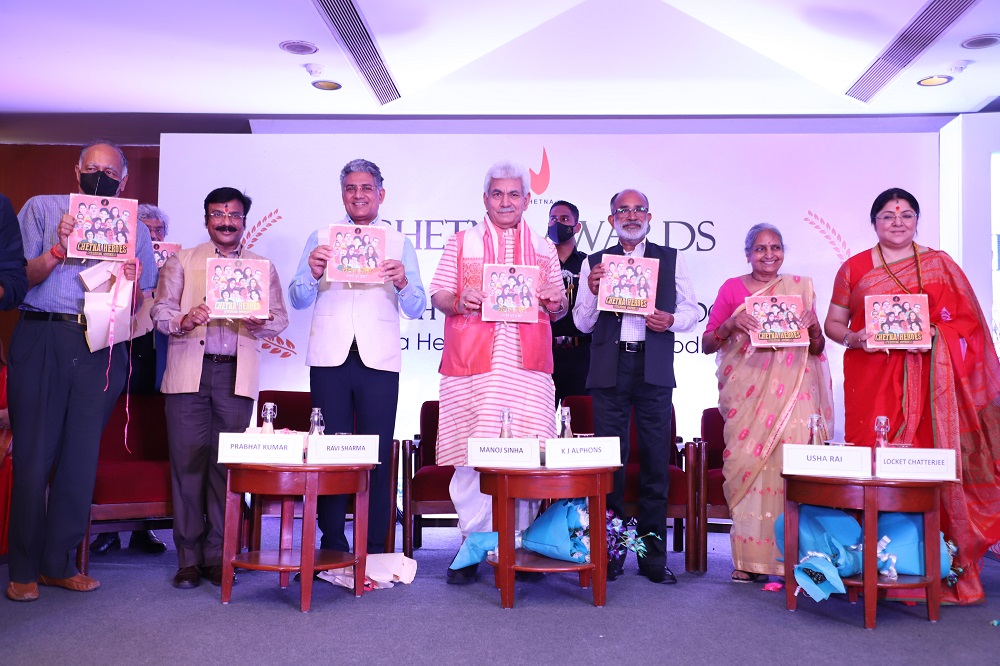 Mission Chetna is a movement of Spreading Goodness by recognizing, appreciating, and supporting those real-life heroes of society, who have chosen "Goodness" as a way of life with a resolve to make this world a better place. These real-life heroes are decorated with the title "Chetna Heroes".
In order to make them strong, independent, and more effective, Mission Chetna mentors & supports Chetna Heroes emotionally, organizationally, and financially in  creating their own NGOs. So far Mission Chetna has incubated and supported 70 such NGOs in the last 5 years and touched the lives of ONE crore people across 11 states in India.
The founder of Mission Chetna touches on the founding principles of the Spreading Goodness initiative and its vision ahead. As he sums it all in his own words,
ग़र चाहो तो तुम भी कुछ कर जाओ,
या फिर औरों की तरह यूँ ही गुजर जाओ,
उठाओ हाथ तुम भी मदद में औरों की,
या फिर यूँ ही जिओ और यूँ ही मर जाओ !!
Ravi Sharma, Founder Mission Chetna
Indeed, it's heart-warming to see the marvelous philanthropic work of Mission Chetna towards spreading goodness in the society through a variety of social welfare activities. And in carrying out this noble deed, the contribution of Chetna Heroes is immense. The Coffee Table Book on 'Chetna Heroes – Spreading Goodness' is a real tribute to the real-life Chetna Heroes whose exemplary work has brought about a change in the lives of millions of underprivileged people of India.
– Shri Manoj Sinha, Hon'ble Lt Governor J&K
I've spent forty years in the IAS, outside IAS as an MLA, as a social worker worked in the slums of Delhi, been a minister but let me tell you, this is possibly the best function I've ever attended in my entire life. Ravi, what you and your (Chetna) organization is doing today is so amazing, so fantastic.
Chetna organization and their Mission Chetna is a great initiative to spread wellness by supporting real-life heroes of our society who have given their best efforts to make this world a better place
The philanthropic activities carried out by Mission Chetna are laudable indeed; and more significantly, the selfless service rendered to the needy by the Chetna Heroes is awe-inspiring and motivating to our society to participate in such a noble cause. I wish Mission Chetna will contribute its optimum in transforming the face of Indian society.
– Smt. Usha Rai, Eminent Journalist
"Chetna Heroes - Spreading Goodness" is now available on Amazon.
The coffee table book enlists the inspiring work of 32 Chetna Heroes and has received wide endorsement from eminent personalities. The foreword of the book is written by none other than Noble Laureate Kailash Satyarthi and endorsed by eminent personalities of India.
Chetna Awards '22 Glimpses
Watch the Entire Event Here